What to do in Kansas City during a Global Pandemic
Now that students have officially returned to campus, one question is on everyone's minds: what's left to do in the city when the threat of COVID-19 is keeping them inside?
It turns out, there are still many unique options for activities that give you an excuse to get out of your house/dorm room/whatever living space you're in. However, which ones are safe, special to KC, and most importantly, fun?
Parks and Outdoor Activities:
One of Kansas City's features is it blends the urban cityscape and nature. Because of this, there are many parks and trails spread throughout the city. Since being outside is safer than being inside, it has never been a better time to go on walks, runs, or hikes. Exploring these outdoor areas is even possible with one or a few friends, as social distancing outside is fairly easy. Some noteworthy examples of parks and trails include Swope Park, the Line Creek Trail, and Loose Park.
"I found Loose Park because my friends and I wanted to celebrate my birthday in a safe social distancing way so we looked up parks nearby, and now I feel like I am always there," Bridgette Berry, a new student at Rockhurst, said. "It is such a beautiful park and it is so big, so it gives you the ability to run around and really enjoy your time there."
Museums and Attractions:
Many of KC's famous museums are also open or reopening for business, including the Nelson-Atkins Museum of Art, the National WWI Museum and Memorial, and the American Jazz Museum. While their times for opening and closing are limited, and you must make a reservation in advance, they continue to offer a variety of safe experiences.
For more of a mall/shopping experience, Crown Center, located in the middle of downtown, has reopened from 11am to 5pm on Monday through Saturday. Its various attractions, including the LEGOLAND Discovery Center and SEA LIFE Kansas City, are also open, with tickets needing to be purchased in advance.
All these museums and attractions require mask-wearing and social distancing, which is a small price to pay for a chance to see something you may have never seen before.
In regard to trying something new, "I would suggest finding a friend and doing one different thing each weekend," Shannon Typher, an Admissions Counselor at Rockhurst, said. "That can be shopping at a different store, eating from a different restaurant or going to a different park here in town."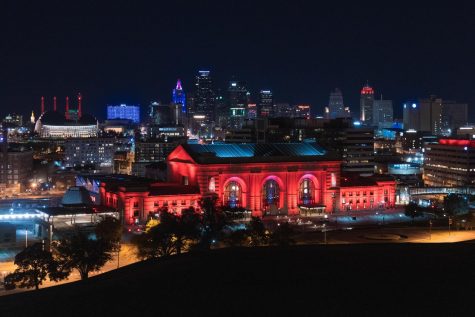 The Restaurant Scene:
Speaking of restaurants, Kansas City is also well known for its local restaurant scene, which was initially hit hard by COVID-19. However, many restaurants and other well-known areas have adapted by adding new patio and outdoor seating, allowing their old and new customers alike to return. Specifically, the Power and Light District and Westport have used their neighborhoods to create safe, socially distanced outdoor seating.
"I've enjoyed still being able to go restaurants, like Charlie Hooper's, because of the additional outdoor seating," Will Kuenne, a Junior at Rockhurst, said. "We can be safe while still enjoying good food from good places."
Farmer's Markets:
For something a little different, the Farmer's Market, located within the city's River Market, is open on weekends, when students and faculty alike may need to take a break and explore something new. It offers a variety of fresh, local foods, which can be used to cultivate a new pandemic hobby: learning how to cook. With many trying to find ways to pass the time, cooking is a great outlet anyone can enjoy.
Each of these activities shows the unique resilience of Kansas City in the face of a global pandemic. They each offer different ways for the Rockhurst community to get out of their residences and explore the city safely. Thus, instead of feeling cooped up, those who feel stuck can simply look around the city and find something just for them, as many people already have.
Edited by Micaela Gutierrez