Rockhurst to face No. 22 Wisconsin-Parkside Thursday night for 'Jam the Gym'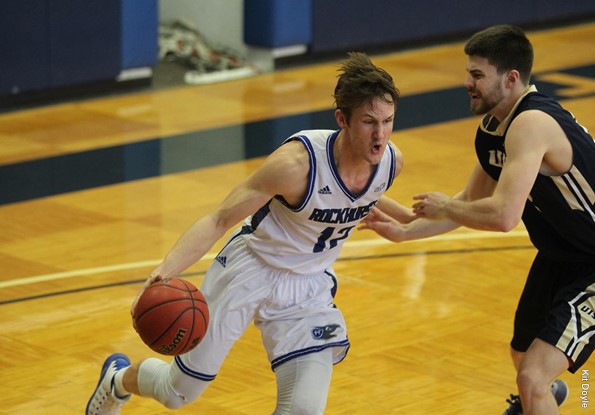 Hang on for a minute...we're trying to find some more stories you might like.
KANSAS CITY, Mo. — The Rockhurst University Hawks men's basketball team will tip against the University of Wisconsin-Parkside Rangers Thursday evening at Mason-Halpin Fieldhouse. The Rangers (17-3, 9-2 GLVC) are ranked No. 22 in the most recent National Association of Basketball Coaches poll.
Thursday evening's game, which is Jam the Gym/Alumni Night for the Rockhurst athletic department, is scheduled to begin at 7:30 p.m. The Hawks (11-7, 5-5 GLVC) are coming off a successful weekend at home that included wins against Missouri-St. Louis and Maryville on Thursday and Saturday, respectively.
Forward Alex Hagan continues to lead Rockhurst in scoring with 16 points per game. Shortly behind him in scoring is forward Kaleb Warner and guard Malachi Nix. Warner has scored 15, 23, 19 and 30 points in his last four outings and has been the team's leading scorer in three of those four games.
Wisconsin-Parkside averages 82.9 points per game, which is 6.5 points better than the Hawks. The Rangers boast three scorers that average double figures in points per game. Senior guard Alexander Brown leads Wisconsin-Parkside in scoring (17.1 points per game) in 20 contests. Brown has started all 20 of the Rangers' games.
Rockhurst has made about two more three-point shots per game this year, but Wisconsin-Parkside shoots about five percentage points better from behind the arc. Hagan leads the Hawks in three-point percentage at 48 percent (minimum 25 three-point shots attempted), but Adam Bonk leads the Rangers at 53 percent.
The Rangers have fallen twice this season on the road, both during conference play against Southern Indiana and Bellarmine. The other loss took place on a neutral court. Rockhurst fell to Bellarmine by nine and Southern Indiana by 21 in early January this season.
Wisconsin-Parkside head coach Luke Reigel is in season No. 14 at the helm for the Rangers. He has led the Rangers to four consecutive GLVC East Division crowns and five NCAA tournament appearances during his tenure with Wisconsin-Parkside.
Rockhurst students that attend Thursday night's game have a chance to win a Fitbit, Visa gift card or iPad. Free Chik-fil-A will also be available to students.