New Protocols, New Lifestyles
Campus Coronavirus protocols have made life feel anything but normal at Rockhurst this semester.  Amid new class formats and new gathering rules, students and organizations are still finding ways to be together while physically apart. 
Just a year ago, organizations were able to meet often, shoulder-to-shoulder, face-to-face. Faced with a campus shutdown in March, after cases began surging in the Kansas City area, things quickly changed.
Rockhurst's coronavirus restrictions limit the size of groups to be less than ten, in social settings, and mandates mask wearing on campus as well as social distancing. With many smaller classrooms, this has meant finding new means of learning including face to face, virtual and hybrid classes. As for meetings and office hours, they are typically through Zoom.
Morgan Trousdale, president of Alpha Sigma Alpha, has worked hard to ensure as much normalcy as possible for her chapter. She told the Sentinel that the chapter has worked with Rockhurst "to reinvent a lot of our events." For example, Alpha Sigma Alpha is one organization who has been taking advantage of nice weather to host outside meetings and events where members can be together.
"We are able to do many of the same things, they just look a little different," Trousdale said.
Active Minds is another  organization that has been creative about finding ways to safely follow protocol in person. Active Minds is a student organization which promotes the end to the stigma surrounding mental health.
 Using both Rockhurst guidance and safety protocols, Annie Murphy, the president, said that the executive committee and members have been able to hold meetings in person on the quad. Members bring their own blankets and masks and socially distance themselves outside.
 This has left Active Minds with the same opportunity for community and growth as before, with a different look. Murphy does have concerns of having to move back to Zoom once the weather gets cold, but believes the foundation of in-person meetings will be helpful as a start for the rest of the year. Murphy also expressed gratitude for her organization being able to have Active Minds Week. Happening in early October, they had a goal of raising funds and promoting positive mental health campus wide. Murphy said they were able to succeed in both with the support of faculty, staff and students. 
Fraternities have also been hit hard with new protocol, making it difficult to recruit. Zander Haddad, the Vice President of Recruitment for Alpha Delta Gamma, said he is thankful to be back on campus, though admitted challenges still face the fraternity. 
"It is hard to get people out to programming" he said, and with fraternities based upon forming relationships, Haddad added"it is hard to do when we have to be apart, but it is not impossible." 
Another fraternity finding the restrictions necessary, but difficult, is Pi Kappa Alpha. Vince Rosqueta, the external vice president in charge of philanthropy, service, and social events. Rosqueta said "the restrictions have made it tough to host any events."
 In the past, Pi Kappa Alpha has hosted events which attract large crowds, such as the Hopkins 5k, which had to go virtual this year. Rosqueta also described a difficulty that many other organizations are facing: a battle to "jump through a ton of hoops to get anything planned while the office of student development shoots down most ideas." Being a Vice President, Rosqueta wants to keep everyone happy within the organization. But with not a whole lot going on, he fears the frustration that many people in the organization are feeling. 
Along with organizations facing the new norm on campus, COVID protocols have made  being a student in a classroom more challenging as well. 
Rachel Torre, a senior education student, expressed a struggle to communicate with faculty. 
"I have needed to talk to employees at Rockhurst many times this semester to get simple information and have had to job through multiple hoops just to get one question answered," Torre said.
Morgan Magee, a  nursing student sees difficulties in the social aspect of school. "I don't get to see my classmates really which makes it tough to talk through topics in lectures that need some clarification," Magee said. She added that the organizations she is involved in, specifically music ministry, are still running, though not always "full blown… which has been tough and definitely alters how we get people involved."
Students seem to express an attitude of gratitude for being back on campus, while admitting this semester is producing a lot of challenges, both in and out of the classroom. Hoops need to be jumped through, and simple events take a lot more planning to ensure safety is always the top priority. Rockhurst staff is working around the clock to ensure we stay on campus, and many students see their hard work and are thankful to still be here on campus.
 If you find yourself struggling, remember the resources Rockhurst has to offer. The Learning Center is still connecting regularly with students via Zoom for academic help. The Counseling Center is also still meeting with students virtually. Both resources can be found on www.rockhurst.edu/campus-life.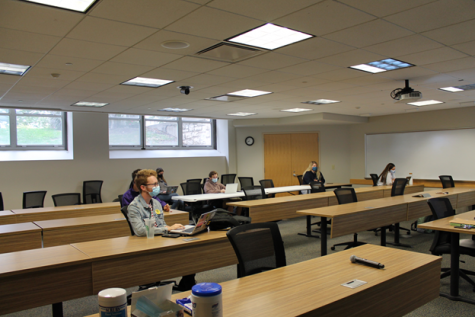 Edited by Micaela Gutierrez