On the evening of Sept. 29, amidst the lively celebrations of Family and Alumni Weekend, the new Rockhurst Athletics logo was unveiled, marking a new era for the university's sports teams.
Bourke Field buzzed with anticipation as Rockhurst students, proud alumni and families gathered to witness the reveal of the much-anticipated new Rockhurst hawk.
"I have been hearing about the reveal during the announcements before my games the last few weeks and was excited the reveal day had finally arrived. I like the new logo and I am excited to represent it," said Quinn Conroy '27, a student-athlete in attendance.
Excitement brewed through the air as the RU Spirit Squad, following the lead, Rock. E. Hawk, paraded onto Bourke Field, rallying the crowd. After a suspenseful countdown, a flag bearing the new hawk emblem emerged from the Convocation Center, the crowd bursting into cheer. Both the reveal and the logo were a resounding success.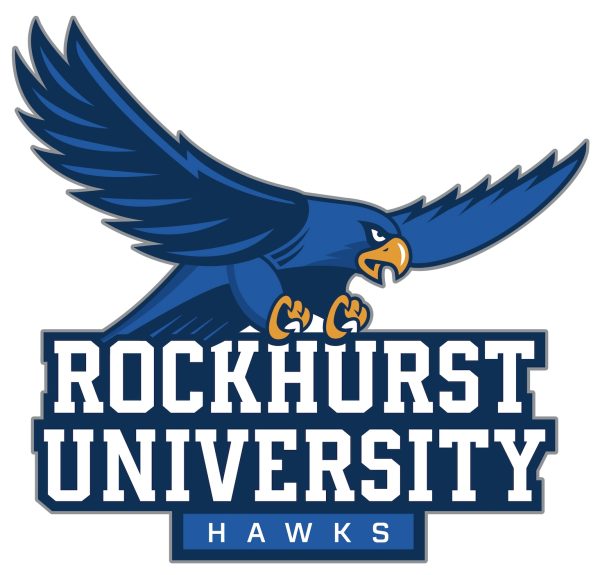 "We have received great feedback from all audiences: student-athletes, students, fans, faculty and staff, alums and the general community," said Kristy Bayer, Director of Athletics at Rockhurst. "We were very pleased with the launch."
The journey to this new logo required a thoughtful and deliberate effort from the athletics department.
Bayer said her team had informally discussed changing the logo since she began working at Rockhurst in July 2021. The old athletic logo had gradually been phased out of permanent spaces or apparel, such as uniforms.
"We knew we would be changing it in the near future," she said. "We needed a logo that was more contemporary and spoke to who we are as an institution."
To craft the new logo that will represent Rockhurst Athletics for years to come, they collaborated with local marketing firm Johnny Lightning Strikes Again.
"They did a thorough job on their research on the front end to understand our mission, values, and where we want to go as an athletic department," said Bayer. "They looked at peer institutions as well as university archival materials for a logo designed to stand the test of time."
Now that the logo is complete, Rockhurst is focused on implementing it into athletics.
Bayer explained that the athletics department's next steps are to replace the old logo and make the new one visible, "As they update team uniforms and apparel going forward, coaches are ensuring the new hawk logo is included. "We want to get the branded apparel into the hands of our fans and students," she said. "The more people can see it, the more they can tie it to Rockhurst Athletics, the more recognition and visibility we can get."
Bayer sees the new logo as one step toward developing an improved athletics program.
"We hope it brings excitement for a new era of athletics," she said. "We have a great product at Rockhurst when it comes to our institution and athletics department. We're hoping this logo, combined with our recent BSN Nike partnership, will get our logo out to our community."