How to be social while social distancing
For many students, college is a time for meeting new people, trying new things and finding yourself. But this has changed in the coronavirus era, where restrictions to keep campuses open have shut down a lot of the normal parts of college life.
At Rockhurst, the search for ways to still be social while keeping safe distance is ongoing for many students. As the semester progresses and boredom spikes, many are contemplating what they can actually do.
But while covid rules may limit activities on and off campus, they don't eliminate all forms of entertainment. Staff around campus and student organizations are working to ensure some of the typical fall campus activities still happen even while staying true to covid guidelines.
In fact, several of the major fall semester events at RU are still on schedule, though they'll look a little different.
The University and the Kansas City area offer many options for students to entertain themselves during this tough time.
Rockhurst as well offers social gatherings, as its organizations like SAB, Greek life, and others host homecoming events, frosh getaway, and world cultures day which all help out campus community members come together during difficult times such as these.
World cultures day, like other events, will be online this semester, but students can still participate by creating presentations and joining the virtual event. As of now world cultures day is scheduled to be held through Canvas on October 8th.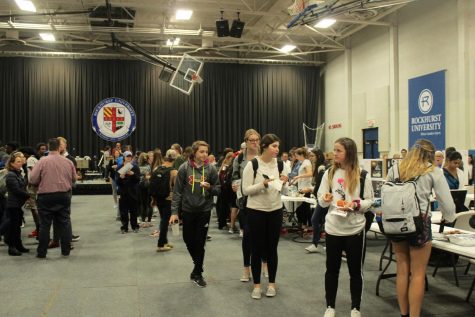 As for homecoming, the dance itself will not be happening, however SAB is currently trying to figure out homecoming events which abide by their guidelines. In order to receive more information and notifications regarding the activities download the Guidebook app from the app store or Google play store.
Although frosh getaway has already happened, the retreat allows for incoming freshmen to get to know their peers, as well as upperclassmen to display leadership. Showing new faces what the Jesuit mission is all about.
"Frosh Getaway is a great way to bond and get to know a lot of people early on and make new friends" said Lidia Fekadu, past getaway attender.
"Finding an organization you're interested in and getting involved helps you build friendships with people who share common passions and interests" Fekadu said.
This year intramurals will look much different than in years past. Sports like basketball, volleyball, soccer and flag football will all be held outside in order to promote safe distancing practices. Signups are still open, and events started the week of Sept. 14.
Men's and women's flag football games are on Mondays from Sept. 14 through Nov. 16.
Men's and women's 3 vs. 3 basketball follows on Tuesdays form Sept. 15 through Nov. 17.
Next is co-ed soccer on Wednesdays from Sept. 16 through Nov. 18.
Finally, co-ed sand volleyball will be held on Thursdays from Sept. 17 through Nov. 19.
All of which have already started and are looking for new players each week.
As for off campus activities, the KCMO area offers a wide range of things to do around the city. Activities such as bowling, golfing, sight-seeing, museum tours and shopping offer college students the ability to have fun, take pictures, make memories and most importantly stay safe and maintain distance.
Places like the Country Club Plaza, Topgolf, and the Nelson-Atkins Museum are near Rockhurst and great ways to spend time off campus while remaining safe.
"We like to picnic at Loose Park or the Nelson lawn," says Bella Scoggin, class of 2023. "If it's a nice day out we with go [outside] and play spike ball or to cookout, and if it's not we have movie nights or study parties".
"By using activities Rockhurst provides, entertainment venues throughout the Kansas City MO area, and the community we build around ourselves we can make the fall semester a just as fun as last year's" said sophomore Mac Cross.
Finding ways to be social and safe is a never-ending process in this fall semester. Although many students find it difficult, using resources such as Rockhurst, one's community, and the KCMO area being social while distancing is only 6 feet away.
Edited by Amarvir Ghuman