All the details you need to know for Rockhurst's graduation weekend
Here's everything you need to know as graduation approaches.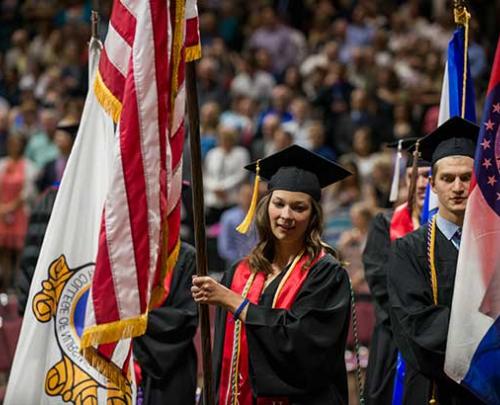 Finals week often serves as reminder of graduation approaching for the class of 2018. After countless hours of schoolwork and extracurricular activities, the upcoming weekend presents an opportunity to appreciate and reflect upon each individual's time at Rockhurst. Graduation provides a chance to commemorate the seniors' hard work in obtaining their respective degrees.
The celebration will begin with the Baccalaureate Mass Friday at St. Francis Xavier church located across Troost from the Greenlease Library.
Graduates will start the procession from Conway to SFX at 1:45 p.m. and the ceremony will begin shortly after at 2 p.m. Doors open at 1 p.m. for family and guests to begin seating. There will be a reception immediately following mass held in the Convocation Center.
The Commencement ceremony will be held at 1 p.m. on Saturday at the Municipal Auditorium. The address is 301 W. 13th St., Kansas City, MO 64015. Public parking will be available near the Municipal Auditorium.
Graduates will proceed into the building, organized alphabetically by type of degree.  A marshal will direct the students across the stage in order to receive their diploma from Fr. Curran.
Following the Commencement ceremony, the "Hawk Walk" will take place. This tradition consists of all new graduates walking to the Power and Light District for a chance to celebrate their recent accomplishments. There will be a section designated for Rockhurst personnel to gather and take pictures. All guests are invited to join, with appetizers and a cash bar being made available.
Chrissy Alvey, a senior from Kansas City, Kansas was asked to describe her experience at RU. "Leaving Rockhurst is bittersweet," she said. "It will be difficult to leave behind the teachers who I formed a close bond with. …While I will miss this school, I am excited to use what I have learned and apply it to my adult life."
Jack Herrmann, a senior from St. Louis echoed Alvey's sentiment. "More than anything, I will miss the relationships I have formed through Rockhurst," he said. "I have made lifelong friends and received guidance from great mentors."
Herrmann mentioned his readiness to begin his career. "I think my professors did a wonderful job in preparing me for my future employment. I feel like I have gained a valuable amount of knowledge necessary to be a leader in the business place." Jack has accepted a position as a Consultant at Cerner Corporation in Kansas City.
Undergraduate students are also welcome to attend the upcoming celebrations. For further details or questions concerning graduation weekend, email [email protected].