Rockhurst sororities raise nearly $9,000 during philanthropy weeks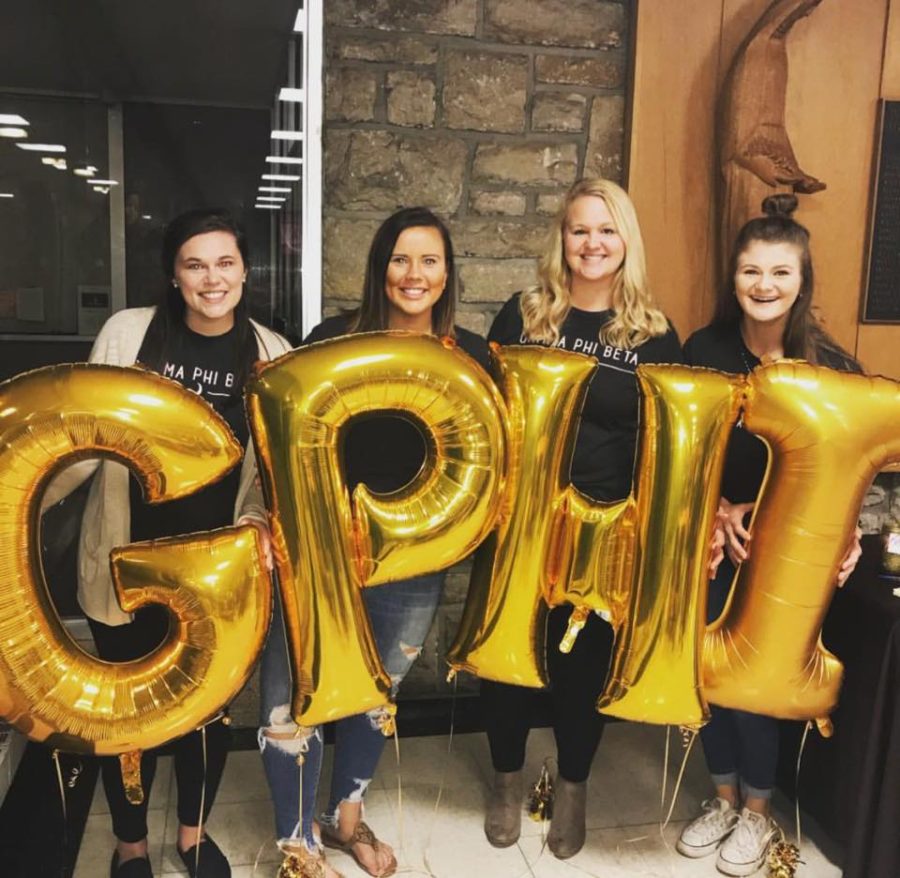 Rockhurst sororities recently donated $9,000 to a wide range of charitable causes as part of their collective Philanthropy Weeks.
Each sorority has traditionally held their annual philanthropy week during the fall semester. Throughout each specific week, the organizations raise money by hosting a handful of events both on and off campus. The proceeds are then donated to their respective philanthropies, or charities.
The ladies from Zeta Tau Alpha experienced the most monetarily successful philanthropy week by raising $3,200. Also known as "Think Pink Week," the events took place from October 23-27. Zeta's philanthropic focus is breast cancer awareness and education, and the sorority donates to organizations that educate women about risk factors and early detection. This results in cancer patients being able to receive treatment as early as possible.
Zeta Tau Alpha held multiple events, both on and off campus. The most lucrative was the "Big Man on Campus," a talent show among male representatives from numerous campus organizations. They also hosted a speaker about breast cancer, a basketball tournament, musical bingo and a head-shaving contest for fraternity members. In addition, Zeta held profit-sharing nights with area restaurants such as Culvers, Pizza 51, Panera and Chick-fil-A.
Alpha Sigma Alpha experienced another terrific philanthropy week, often called "Special O Week," from September 11 to 14. The sorority donated $2,400 to Special Olympics. ASA's events included a chicken wing eating contest and Dancing with the Alphas, a campus favorite because it gives fellow Hawks a chance to showcase their hidden dancing abilities. ASA also held fundraisers at Pizzeria Locale, Chipotle and Yogurtini.
"Special Olympics is an organization that helps children and adults with intellectual disabilities to feel empowerment to play sports and not allow their disability to hinder the way they want to live their lives", said Kelsey Zwick, '19, ASA's Philanthropy Chairwoman. These activities provide a touching opportunity for those with special needs to experience the thrills of athletic achievement.
Gamma Phi Beta donates their philanthropy week proceeds to Girls on the Run, an organization that seeks to "build strong girls" by instilling physical and mental strength through self-confidence. These aims are accomplished by hosting empowering activities, such as the running of a 5K. Over 70 percent of the chapter volunteered their Saturday on November 4 to help cheer on race participants, hand out medals and provide hospitality.
Gamma Phi Beta raised $2,000 from October 9-12 via a wide range of events. Ten teams enjoyed competing in their annual "Moonball" tournament. Their chili cook-off provided students with a chance to make and sample 16 of the best chili recipes around campus. "G-Phi Madness" also offered Hawks a chance to play some sports on the quad while walking between classes. Profit-sharing nights at Chick-fil-A, Pizza 51, Panera and Yogurtini wrapped up a successful week for Gamma Phi.
Theta Phi Alpha raised over $1,000 for the American Heart Association (AHA) from September 25-29. Their philanthropy week is appropriately dubbed "Heart to Heart Week." The AHA helps people throughout the country pay for necessary cardiac care.
Their campus event list included:
Jail Bail, a daylong fundraiser asking people for money while pretending to be in "cardiac arrest."
Rock the Beat, a karaoke competition that included participants from nearly all campus organizations. The singers were forced to combine their musical talents with the ability to remember song lyrics.
Trivia night, the most successful event, with the winner taking home six Kansas City Chiefs tickets. This prize had students turning out in large numbers to compete.
The result of the philanthropic work was a combined donation of nearly $9,000 from the four sororities. In the spring, RU fraternities will hold their own respective philanthropy weeks.
"I am proud to be part of such a wonder Greek tradition here at Rockhurst," said Anna Lister, '17, president of Theta Phi Alpha. "Each organization provided contributions that will better the community. It is fantastic to see our hard work result in such a successful semester."
Interested in joining the Sentinel staff? Reach out to our Editor-in-Chief, Ryan Crawford, at [email protected] to see how you can get involved.