Active Minds continues in fight to end mental health stigma at 'Be the Light' event
Four students shared their own experiences with mental health.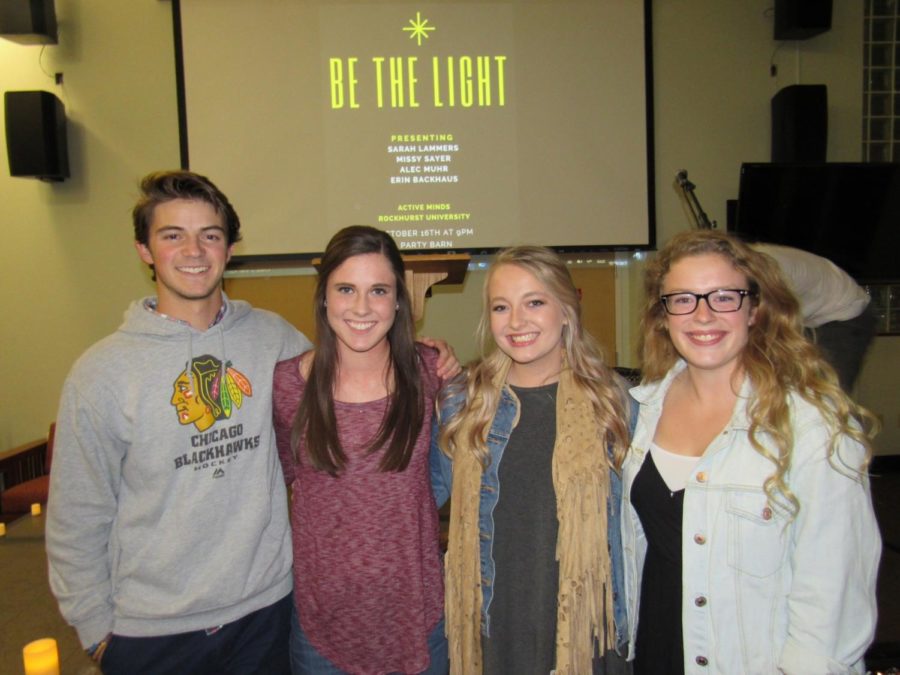 The stigma surrounding mental health is still present, but that doesn't mean there isn't a wide-spread effort to end it.
On October 16, Active Minds–an organization on Rockhurst's campus that hopes to end the stigma surrounding mental health–held an event, billed "Be the Light," that featured personal testimonies from Sarah Lammers, '18, Missy Sayer, '19, Erin Backhaus, '21, and Alec Muhr, '18.
The event filled the Student Activites Hall to near capacity with friends, fellow students and supporters to those giving testimonies.
One of the students giving a personal testimony said the event allowed people to see a different side of each other. "I think the coolest aspect of Be the Light is that you get to see a different, vulnerable and raw side of people," said Muhr, who detailed his own experiences with mental health issues at the event. "It is such a vulnerable time for the speakers and in that moment we share such a real part of our lives that others don't get to see every day.
"It forces this relationship that wasn't there to begin with; one that says I understand what you have been through and what you battle every day from one side, and from the other side, says I am vulnerable and trusting of you. It opens the audience up as well. That mutual benefit stemming from the night [was] really special and unique to Be the Light."
Rockhurst Active Minds President Mia Zanabonia, '18, said an event like Be the Light "makes talking about mental health that much easier." "The speakers did a great job, not only sharing their struggles and triumphs with mental illness, but also providing tips and advice for those struggling," she said.
Announced in August of earlier this year, Active Minds was recognized nationally as a "Five-Star Chapter." The organization holds multiple events throughout the school year that aims to bring the conversation surrounding mental health to the forefront of today's society.
Active Minds encourages those who want to talk to someone about their experiences with mental health to reach out to the Rockhurst Counseling Center, or at the very least, talk to a friend.