Rockhurst Film Arts & Theatre Program is restructuring after the loss of Mabee Theatre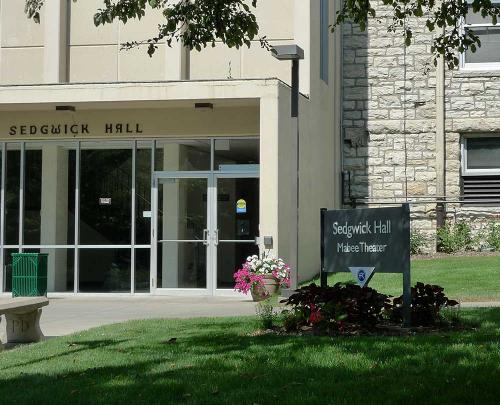 After the closure of the Mabee Theater due to the renovations that took place at Sedgewick Hall, the Rockhurst University Film Arts and Theatre program had to restructure. Without a stage to perform on, they were forced to make the switch to a more film focused program. And while not totally by choice, head of the Film Arts and Theatre program, Matthew Schmidli said that the switch has brought on a lot of positives for both students and faculty.
With the rise of film-based projects in the program, not only can Rockhurst students and community see and enjoy projects, but they are also sent to film festivals. Another positive about making films is that it gives students an opportunity to experience what it is like to be on a set, which can help prepare them for a possible future in acting or production.
This past semester, the program shared two new films. They were premiered around Halloween and featured many horror film techniques. One of these films shares a tale of ghost stories that become a little too real and was titled "Can You See It?". The other was called "Harper's Tapes" and features a girl named Harper who receives tapes for her birthday as a gift from her deceased father which reveal dark family secrets. To watch future projects, be sure to keep an eye on your Rockhurst email.
"Approximately 40 students worked on these two projects combined—doing everything from running lights to starring in the features," Kristy Peterson, director for the Center of Arts and Letters, wrote in an email sharing the films on Oct. 31, 2022, "In the spirit of Halloween, we share these 'spooky' shorts!"
There are two minors and one major offered through the Film Arts and Theatre program, those being Theatre Arts, Film Studies and Film Arts respectively. There are currently 10 to 15 students who are majors or minors, but Schmidli said that at any given time, there are 50 to 75 students who are involved in the program in one way or another.
One thing that stood out to me when talking to Schmidli was the emphasis on the relationships between students and professors. Positive student and professor relationships are something the professors in the program pride themselves on, and after talking to students, I confirmed this to be true. The students I spoke to were very complimentary when talking about their experiences in the department and described their interactions within the department as some of best they have had here at Rockhurst.
I was involved in one of the most recent productions of the program, in which I was a background actor. From personal experience, I can say that it was a fun experience that gave me a lot of insight into what film production entails. While I would share the sadness of many students about the loss of the theatre and theatre productions in general, I would say I also share the excitement in the many new things going on in the department.
Overall, I think the Film Arts and Theatre program at Rockhurst is taking a lot of future-forward steps that will not only teach students about theatre and film, but overall lead to a positive student experience.