Ann Martin And Her Countless Ways to Make Thursdays Thrive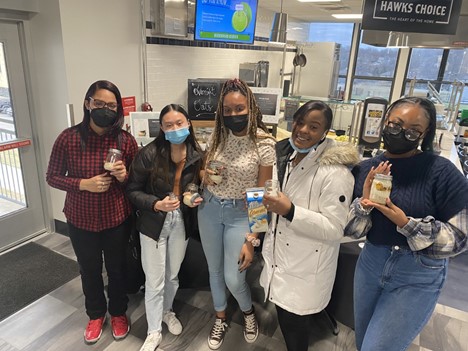 If it's Thursday, you can find Ann Martin in the Thomas Moore Dining Hall providing tools so students can thrive.
One of those ways was on display on Thursday, Jan 27, when Martin presented "Totes My Oats". This initiative was an oatmeal bar for students and staff to promote healthy food options. Participants were given mason jars filled with overnight oats which are oats that cook overnight  in your refrigerator. Students were also given recipes so they could make any type of oatmeal they preferred using fresh ingredients like fruits, milk, yogurt and so much more. Although the demo was a one-night event, Martin made sure to let everyone know to return with their jars to fill them up repeatedly.
"Totes My Oats" was just one of the events that Martin has planned for her Thriving Thursday series for the spring semester. You maybe be asking yourself: Who is Ann Martin? And what is Thriving Thursdays?
Martin is the new director of marketing for Chartwells, a catering service that Rockhurst uses for almost all events on and off campus. She states that she is "a teenager in a middle-aged woman's body." Being the youngest of five children, she is a big family person who loves holidays, sports and school spirit.
Before coming to Rockhurst earlier this year, Martin has helped open many KC restaurant favorites –including The Capital Grille, The Cheesecake Factory and Lidia's. She was also an Event Director for the Missouri Restaurant Association and a Catering Director for Cerner.  Since she started her position with Chartwells, Martin, with her high-energy spirit, has sought to inject fun and excitement into Rockhurst's dining spaces.
Beyond the Thriving Thursday's series, Martin and Chartwells also plan to host different campaigns this semester, like ones they have done in the past Hopeful and Joyful and a new campaign, Delightful that will be coming shortly. Delightful is a country wide day full of random acts of kindness that all Chartwells campuses participate in. If you like Tik Tok stay tuned for fun Tik Tok recipes from the dining hall. Martin also revealed a fondue bar in the Rock Room on February 26. The bar consisted of fresh fruit, pastries and other treats for all who participated.
Martin says that her goals for her events are to, "build relationships with the students so I can have a better understanding of their likes and dislikes and what they need to be happy away from home.  My oldest daughter is a freshman in college so I just try and do things that I know she would like when away from home."
The Thriving Thursday's series was created by Martin to teach students about how to be resourceful in the dining hall with all the different healthy snacks that are sustainable. Every Thursday, she will provide us with the tools necessary to do just that in the dining room surrounding the spotlight superfood. Each superfood is a FYUL topic which is a wellness program made by students for students determined to provide functional foods that taste great and are also healthy. Another part of her series is to do giveaways that she knows students will like that represent the season or time of year.
Her oldest daughter is a big inspiration for these events because Martin can see first-hand what it is like to be so many miles away. While Martin is here at Rockhurst, her goal is to feed everyone or to least provide students with the resources needed to feed themselves safely on their own. She said her goal is to create an environment where everyone has food security and to fight endlessly to make sure that those who don't have enough will get everything they need.
Martin is eager to help individual students and is also looking to collaborate with different groups and organizations on campus to help even more students.