The Rock Room's newest student choice hub
What Rockhurst students are thinking about the latest campus dining spot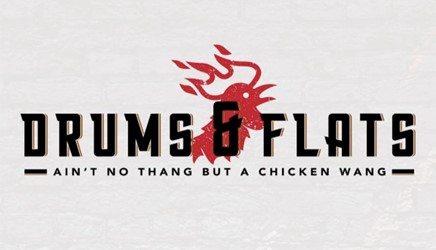 It is already becoming an early routine in the semester to try the new dining option that is offered at the Rock Room. Since Fall 2019, students, faculty, and staff have had the opportunity to see  change in the Student Choice restaurant that is next to the Market and even been able to participate in choosing what restaurant comes next through a voting mechanism. Previous restaurants such as Tu Taco and Houston Subs have been a complete success.
This semester has not been the exception. The new Student Choice restaurant, referred as Drums & Flats, has called the attention of the community, as it is both an innovative and provocative experience. The majority of people have felt that their needs and votes were considered when the dining staff decided to open this new place.
Some students have already expressed their opinions about it. Rockhurst freshman Jocelyne Trujillo, who is double-majoring in Exercise Science and French, said, "Overall, it is a really nice and welcoming environment. On top of being a clean area, the staff is always nice, and they are always willing to help you out."
There are several offerings. From the typical bone-in wings to the interesting blue cheese coleslaw, the consumers have different options to choose from. There are currently seven types of sauces or tops that can be selected. Additionally, the student choice also offers some intriguing combos. For instance, the five bone-in baked wings plus a side and a fountain drink has really called the attention of diners.
Freshman Diana Ortiz, who is currently pursuing an Exercise Science major, got the mentioned combo and was really pleased with her choice. "Even though a wings place is usually very standard, these wings tasted really good for something that doesn't have much choices sauces wise," Ortiz said.
One aspect that has bothered students, however, has been the expensive prices. The average price of a combo is close to eighteen dollars after taxes, while in places such as Buffalo Wild Wings, the same amount of food would cost approximately $12 after taxes. However, the reason that explains this 'premium' price is the quality of the ingredients.
At Rockhurst, the dining philosophy is that wellness goes beyond plates. For this reason, the ingredients are purchased from local farmers, which allows the consumers to enjoy fair trade menu items. These items do not produce much waste and follow the fair food agreement. Regarding poultry, the university only purchases free-range and antibiotic-free chickens. This means that those animals were only raised with restricted use of antibiotics and were able to engage in natural environments.
Now, with this new dining option, students have also raised concerns about the fact that the university may be encouraging its students to prefer junk-food over wholesome food. "Last semester, with the subs and taco places, you could opt for healthier meals," Trujillo said. It is common knowledge that students need to meet their daily nutritional requirements to pull through the intense academic year. Nonetheless, they do not feel they can do so with this dining option. "I would come here again, but I would not come here often. The food feels heavy on my stomach," Trujillo added.
Among those individuals that follow a specific diet, there has been some complaints as well. For instance, those who opt not to eat animal meat may feel that their lifestyle does not fit with Drums & Flats. Even though there are some veggie options among the menu, it may not be sufficient to satisfy the needs of vegetarians or vegans. However, the fact that there are even some options of this type should be considered a development on campus.
It will be interesting to observe the comments of the RU community on this place at the end of the semester. For now, it has caught the eye of several members students and faculty, and it has had attained some approval among them. Only time will let us know if it was the right move from the dining staff.