Top TV Shows and Movies to Binge this Hallo-weekend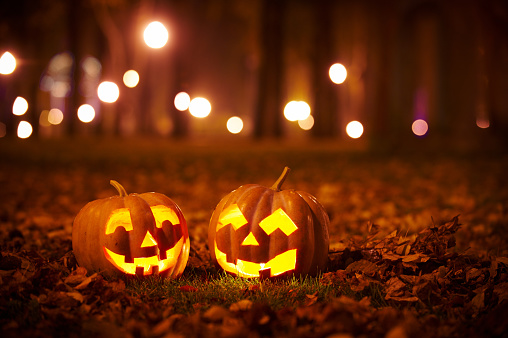 Think the Sunday Scaries are bad enough already? Cover your eyes, because this weekend they're going to be a lot spookier! This Sunday is Halloween, October 31st. 
What could be more terrifying than a week of assignments ahead? Well put down your planner, and pick up some popcorn, here's a list of TV shows and movies that might cause more fear than that essay you put off until the night it's due. 
"YOU" – Netflix
"A dangerously charming, intensely obsessive young man goes to extreme measures to insert himself into the lives of those he is transfixed by." (IMDb)
Ranked number one with 7.7 stars on IMDb's most popular TV shows chart, this show is sure to be a crowd pleaser. 
Midnight Mass – Netflix
"The tale of a small, isolated island community whose existing divisions are amplified by the return of a disgraced young man and the arrival of a charismatic priest. When Father Paul's appearance on Crockett Island coincides with unexplained and seemingly miraculous events, a renewed religious fervor takes hold of the community – but do these miracles come at a price?" (IMDb)
Ranked number five with 7.7 stars on IMDb's most popular TV shows chart, this show puts a twist of horror on a religious story.
Only Murders in the Building – HULU
"Follows three strangers (Steve Martin, Martin Short, and Selena Gomez) who share an obsession with true crime and suddenly find themselves wrapped up in one. When a grisly death occurs inside their exclusive Upper West Side apartment building, the trio suspects murder and employs their precise knowledge of true crime to investigate the truth. As they record a podcast of their own to document the case, the three unravel the complex secrets of the building which stretch back years. Perhaps even more explosive are the lies they tell one another. Soon, the endangered trio comes to realize a killer might be living amongst them as they race to decipher the mounting clues before it's too late." (IMDb)
Ranked number six with 8.2 stars on IMDb's most popular TV shows chart, this show will keep you on the edge of your seat with each new clue. If you don't like jump scares and scary figures this thriller is for you. 
Halloween (1978) – Amazon Prime
"Fifteen years after murdering his sister on Halloween night 1963, Michael Myers escapes from a mental hospital and returns to the small town of Haddonfield, Illinois to kill again." (IMDb) 
Number three on IMDb's list of the top 50 horror movies, this 1978 film has won 7 awards. It's a classic horror film that will most likely scare even the biggest fan of the horror genre.
Night Teeth – Netflix
"A college student moonlighting as a chauffeur picks up two mysterious women for a night of party-hopping across LA. But when he uncovers their bloodthirsty intentions – and their dangerous, shadowy underworld – he must fight to stay alive." (IMDb)
Number two on IMDb's list of the top 50 horror movies, this Netflix original could hit close to home for some, featuring Debby Ryan and a college student.
Friday the 13th – HULU Premium
"A group of camp counselors trying to reopen a summer camp called Crystal Lake, which has a grim past, are stalked by a mysterious killer." (IMDb)
Flip around the date of Halloween, and you will see a second date that will fill you with fear; Friday the 13th. This classic movie will remind you that even after Halloween is over you better keep an eye out.