Meet Rockhurst's New Athletic Director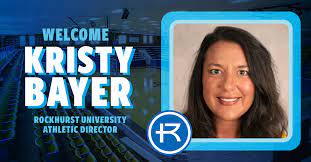 This Fall, Rockhurst University welcomed Kristy Bayer to serve as the new athletic director for our campus. With experience exclusively at the DII level, Bayer has served as both an associate and deputy athletic director before. However, this is her first experience taking on a lead role. 
While meeting with Kristy Bayer, she made it clear why she wanted to take on this role. "During the job search process, I was looking for athletic director positions at the NCAA DII level… I am a strong believer that college student-athletes should have a balance of strong academics, competitive athletics, and be immersed in the campus community. This is the philosophy of DII athletics…," said Bayer.
Bayer did not just choose the role because its description matched her desires. Instead, she came into the position with her own vision for the future of Rockhurst athletics. "I am hoping to improve our brand of Rockhurst athletics. We are a competitive DII athletics program in a great geographical location, and we need to be seen as a top, recognizable choice for prospective student-athletes." 
Sports in Kansas City are a big deal, and fundamentally changing the atmosphere surrounding a local university athletics program in the same city where people's sports attention is focused on icons such as Mahomes will not be easy. Nonetheless, Bayer wants to start with the Rockhurst student body, getting them excited about the different opportunities to watch our teams compete. 
"I would like for us to continue to integrate into the campus student body, and see more students at our games and following Hawk athletics. I am working on ways we can improve our athletics facilities in order to keep us as a competitive program, as well as enhance the student-athlete experience," she stated. 
There is no doubt that Bayer has a challenging project on her hands, as the excitement around our athletic programs for the most part is pretty limited. Nonetheless, Bayer has a vision, and she is very motivated. Therefore, expect to see more marketing for sports events involving Rockhurst school, and take some time to cheer on the Hawks as they fight to bring trophies to campus. 
For a complete list of our athletic programs, schedules, and rosters, please refer to https://rockhursthawks.com/