What Offseason? How will Rockhurst's athletes respond to being home for the winter?
Throughout the fall semester, the coronavirus pandemic has remained an impassable obstacle for Rockhurst's sports teams. Practice regulations about masks, social distancing, quarantine protocol, and COVID tracing policy have made off season practices more complicated than ever.
But after battling limited practices, quarantines, no outside competition and a nonexistent winter offseason, Rockhurst athletics look to bounce back in the upcoming spring semester.
With the exception of in-season sports, such as men's and women's basketball, the winter is an important preparation time for both fall and spring sports. With student-athletes being sent home during this time, team practices are all but hopeless.
While sports like soccer, basketball and volleyball had their seasons scrapped completely, spring sports like baseball, softball and lacrosse hope to regain what they lost in the spring of 2020.
Each of the sports programs have had to devise ways for their athletes to not only stay in shape, but also practice their craft from home as competition is likely to begin when the athletes return in the spring.
When asked about his winter regiment sophomore baseball player Joe Rost said, "Everything over winter break will be individual because we aren't allowed to have team practices". Players will be held responsible for being game ready come springtime, he added.
"Our coaches will send weekly workouts for players to do and people will have to get work in on their own time." said Rost.
Baseball is only one of the sports effected by the nonexistent winter team practices. Soccer, after getting their season cancelled for this fall semester will also miss out on important winter practices.
Men's soccer, though, is taking a different approach. Opposed to solely relying on players to work out on their own, they are constructing teams based on their hometowns.
When asked about how the soccer team plans on staying fresh sophomore midfielder Parker Esparza said, "I know our St. Louis players are in a league together in St. Louis where we play against other good college teams like Saint Louis University, Lindenwood, and other regional collegiate teams."
As for the players staying around Rockhurst, Esparza added, "The people staying in the KC area are still trying to find a place to play." If by wintertime if they still are unable to find a league for the players to play, the plan is for them to gather at Rockhurst every once in a while, to practice and stay in shape.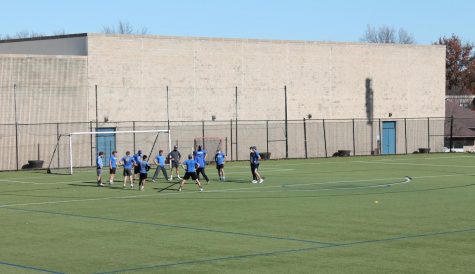 When asked how their players will compensate for the absence of coaching. Assistant baseball coach Brett Marr is optimistic with how the atypical winter regimens will work over the winter coach Brett Marr said, "I think our players will stay dedicated".
"My philosophy is to make sure you model work ethic for the kids and show them how to do everything on their own so when they go home for break, they are just continuing on their own and don't have to figure things out," Marr said.
It is no secret that this type of winter season is foreign to both coaches and players, but all seem to be optimistic and excited about their upcoming seasons. "I'm not worried," said Coach Marr. "They get plenty of off time to stay fresh from holidays and they don't have school to deal with so they should be fresh and relaxed."
After an unfortunate sudden end to spring sports last semester, many of the Rockhurst athletic programs look to rebound in 2021. Traditional spring sports like men's and women's lacrosse, softball, baseball and golf all look to bounce back after their abbreviated 2020 spring season while fall sports like men's and women's soccer, basketball, and volleyball look forward to their seasons in 2021.
With 2021 right around the corner, many students and staff are looking forward to the new year. And as they return to Rockhurst in late January, athletes and coaches of all sports will be ready to reunite with teammates and jump into the spring semester.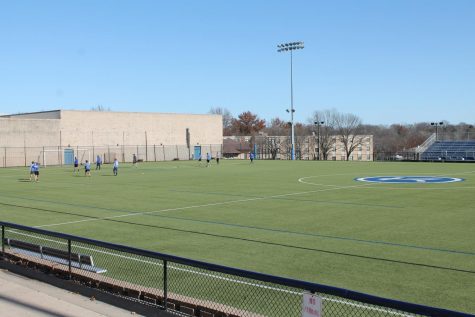 Edited by Micaela Gutierrez