Never Steal A Man's Second Chance: 'Honest Thief' Movie Review
If you're looking for a charming love story mixed in with a generic action filled movie then The Honest Thief is the way to go.
This Liam Neeson film is an entertaining thrill ride all throughout its 1hr and 39-minute duration. Neeson's cinematic claims to fame have long been rescuing someone and hunting down the bad guys. "Honest Thief" is no different, and gives off some serious "Taken" vibes. This action/adventure drama will keep you on the edge of your seat. If you end up watching it, then you'll be getting some good acting, satisfying action and about two hours of thrilling moments all making it worth your while.
Along with Neeson, this emotional and suspenseful drama stars well-known actors such as Kate Walsh, and Jai Courtney.
Honest Thief was written by Steve Allrich and Mark Williams, who directed the movie as well. The PG-13 rated film came out October 16, 2020. It is set in Boston but was filmed in Worcester, Massachusetts in late 2018.
The plot is decent because it feels like it's been done before. The film is still quite entertaining, and the characters are likeable.
Tom Carter, played by Neeson is a professional thief, decides to turn over a new leaf the moment he falls in love with a woman, Annie played by Kate Walsh. Carter feels he won't be able to live with himself because of his crime-filled past. He struggles with the memories of his past self while starting a new honest life with his love, Annie.
It's at this point Carter decides to turn himself in and the money he has stolen to the FBI with the hope of getting a reduced sentence and other benefits—like certain visitation rights to keep seeing his lady love. Once he follows through with confessing and coming clean to the FBI…. Carter's surrender doesn't go as planned. He ends up being double-crossed by the two ruthless agents who were sent to investigate his confession. The pair of corrupt FBI agents decided to keep all the money Carter was turning in as evidence.
The situation gets messy real soon, which leads the movie into a Carter vs. the FBI scenario. Lives are taken, emotions are played with, the suspense is killer, and the romance is intense.
The cinematography includes your typical falling out of a ten-story building stunt. It's all exciting but predictable at the same time. There are a few corny love story moments as well as tragic heart-breaking scenes. You are certainly in for an emotional rollercoaster with this one!
Honest Thief is perfect for a quick thrill and reliving classic Liam Neeson moments. I personally would rate Honest Thief a solid 8/10. It was worth the time and money spent.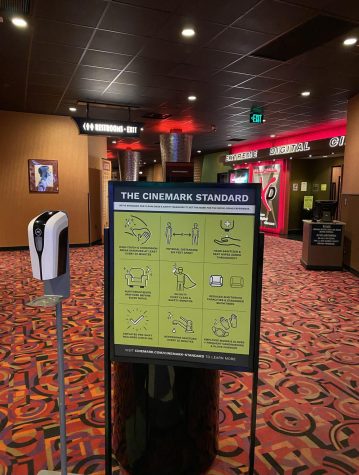 This movie review wouldn't be complete without describing what it's like to see a new flick during a global pandemic. Going to the movie theaters is like entering a ghost town. No lines or crowds in sight and the smell of buttery popcorn is vaguely present. The staff is limited and there is no interaction with them except the at moment you purchase your ticket.
Picking Honest Thief  was not much of a hard choice due to the lack of variety and options at theaters these days. It stood out to me at the ticket booth because of good ol' Liam Neeson—can't resist a classic actor.
Throughout the movie complex, signage about distancing and safety protocols are plastered all around. There are reminders and sanitizing stations at every corner. Rows of empty seats is all you see once you're inside your designated theater, with maybe one or two other people distanced throughout the theater, each one wearing a mask.
Going to see a movie in theaters during a pandemic is quite an experience. Nostalgia and the though of risking your health cross the mind when walking through the endless space of the theater lobby.
Safe to say it will never be the same experience it was in a time B.C. … Before COVID.
Edited by Micaela Gutierrez