Mixing with Mara: The TikTok Version
Food TikTok is the best not-so-secret side of the new social media app taking over the college community.  As someone who spends several hours a day scrolling through my feed (exposing myself here), I've liked and saved over 150 recipes that I want to try. While I've always been a big foodie, cooking for myself during college has been a new adventure. Here are a few TikTok recipes even I was able to pull off—meaning I only set off the fire alarm once.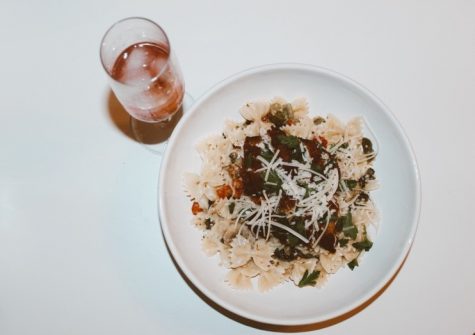 Cheesecake Factory Cajun Chicken Pasta
Ingredients:
1 tbsp. Olive oil
1 Red bell pepper, diced
1 Green bell pepper, diced
2 cups Mushrooms, sliced
2 tsp. Minced garlic
1 Yellow Onion, diced (optional)
½ cp. Chicken stock
1 cp. Heavy cream     
2 tbsp. Cajun seasoning
1 tsp. Lemon Pepper
1 tbsp. Parsley, chopped
¼ cp. Shredded parmesan
½ tsp. Oregano
½ tsp. Onion powder
Dried or fresh Basil (optional)
Salt to taste
1 Egg
1 tbsp. Italian dressing
Sprinkle of salt & pepper
¾ cp. Italian breadcrumbs
¼ cp. Grated Parmesan
Sprinkle of salt
2 chicken breasts, halved
Pasta of your choosing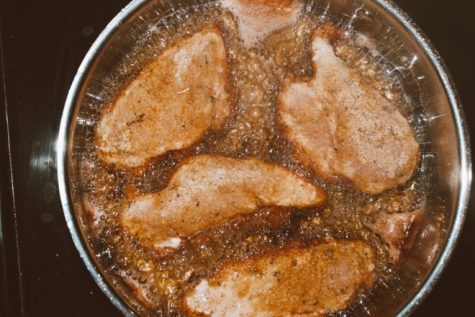 Directions:
Heat olive oil in skillet. Add red pepper, green pepper, mushrooms, onion, and garlic. Cook until vegetables begin to soften. Add heavy cream, Cajun seasoning, lemon poppy, parsley, shredded parmesan, oregano, onion powder, basil, and salt. Simmer until mixture begins to thicken.
In a medium bowl, whisk egg with Italian dressing, salt, and pepper. Coat chicken with mixture.
Mix together Italian breadcrumbs, parmesan, and salt. Coat chicken previously washed in egg wash with mixture. Fry in oil until coating is golden brown and chicken is cooked through.
Combine pasta, sauce, chicken, and enjoy!
Pumpkin Cream Cheese Muffins
Warning: These didn't turn out very pretty but are one of the best things I've ever baked in my whole life.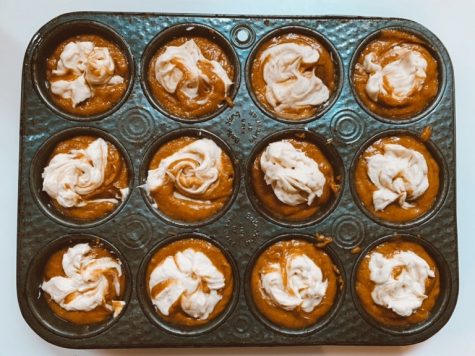 Ingredients:
1 3/4 cups all purpose flour
1 tablespoon pumpkin spice
1 teaspoon baking soda
1/2 teaspoon salt
1 (15 oz) can pumpkin (pure pumpkin puree)
1 cup granulated sugar
1/2 cup packed brown sugar
2 large eggs
1/2 cup vegetable oil
1 tablespoon vanilla extract
8 oz cream cheese
1/4 cup granulated sugar
1 large egg yolk
2 teaspoons vanilla extract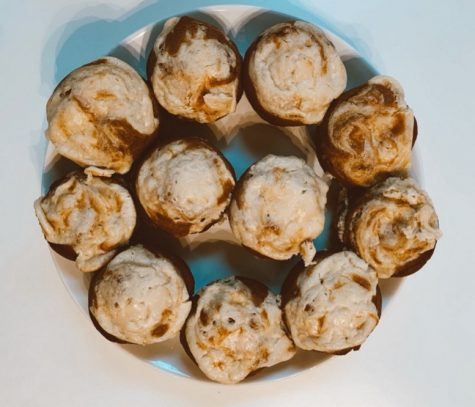 Directions:    
Preheat oven to 375°F. Place paper baking cups into muffin pan. Set aside.
In a medium bowl, whisk flour, pumpkin spice, baking soda and salt until well combined. Set aside.
In large bowl, whisk together pumpkin, sugar and brown sugar.
Beat in eggs, vegetable oil and vanilla extract. Slowly whisk in the flour mixture, until there are no lumps. Fill muffin tins 3/4 full.
In a medium bowl, beat cream cheese until smooth. Add in sugar, egg yolk and vanilla extract and beat until well combined.
Top each muffin with about 1 tablespoon of cream cheese mixture and use a toothpick to swirl it into the batter.
Bake muffins for 18-20 minutes, or until a toothpick inserted in the center comes out clean.
Take muffins out of pan and serve!
Edited by Micaela Gutierrez