Where da Visitors at?
As the coronavirus pandemic rages on, it's no secret Rockhurst has had to alter the way it regulates the campus.
Many changes have been implemented this semester in attempt to keep the university safe: changes in the classroom, cafeteria and athletics.  And few have been felt more by the student body than the restrictions in social gatherings and on campus housing.
Before this semester there were few restrictions on students' guests in on-campus housing outside of overnight guest limitations. This rule has changed due to the pandemic.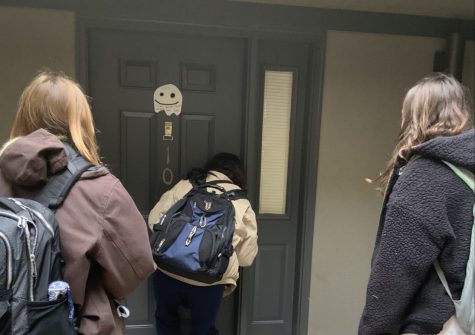 While students living off campus are told to keep gatherings to 10 or less people, students living in dorms, Townhouse Villages and Rock Row houses are subject to tight restrictions: not allowing visitors within the living space as well as mask requirements in lobbies, outside tables and hammocks. It was later confirmed that as of Oct. 22 rule changes will be implemented allowing THV residents specifically, to have two extra visitors as long as the university remains healthy.  If these rules are broken students are met with consequences including fines up to $500, two-week suspensions and anywhere from six months to a year worth of probation.
Navigating the visitor restrictions has been harder for some than others. "Right now, college just doesn't feel like college," said junior Matt Fritton.
"I feel like on-campus residents have been left in the dark when it comes to where we stand in relation to any future [visitation] changes" Says Fritton.
Sophomore Sam Howell added he feels like the visitor rules as of Oct. 21 force students away from campus and into more unsafe locations where he believes the virus is more commonly spread.
He added "It's strange to have us in class and extracurriculars with others during the day, yet at night and after class we can't see the same people in an isolated living space."
Mark Hetzler, associate vice president for student development and residence life, addressed the residence visitor rules in an interview with The Sentinel on Oct. 20 before restrictions for THV residents were relaxed. During the interview, Hetzler hinted that the eventual rule changes announced on Oct. 22.
Living conditions differ within different sectors of living. While residents in dorms are allowed to visit within their building as long as no signs of outbreaks occur, locations like THVs and Rock Row are limited to their immediate residents.
When asked how students are doing in regard to the COVID guidelines Hetzler said "Overall, I would say very well. In the beginning, everything was new, so it was harder for returning students."
But the easing of restrictions on THV visitors are not permanent, Hetzler added. "Coming back in in January, we'll put those restrictions back in place to start with, and then monitor [Covid-positive case numbers] and see where we go. A lot of that will be because of all the travel that takes place during winter break".
Hetzler also explained how decisions are made in regard to future rule creations and changes. He stated the university has a task force made of administration and trustees who develop possible rule changes they then present to the president Fr. Curran and his board. If an agreement is reached then the rule is put in place, if not, there are adjustments are made to the rule so it then passes.
Although restrictions are still at hand, and the virus still poses a threat to the university, Hetzler assures the Hawks Rockhurst as a whole has done a great job keeping out community healthy When asked if Rockhurst has ever been close to being sent home Hetzler smiled and said "Not even remotely."
"It has never even been on an agenda. … We've never been at that point at all this semester," says the administrator.
With winter's cold approaching and flu season right around the corner, monitoring student health is at an all-time high as during this time COVID cases are projected to increase.
"We know the weather is going to have an impact on cases, you can see that nationally" Hetzler said. "There's less to do, there's less opportunity to be outside. It's more difficult to social distance. It does make me a little nervous in terms of changing policies."
Edited by Micaela Gutierrez