Andrà tutto bene
The world has looked to Italy for setting an unprecedented example of how to keep spirits high during COVID-19 pandemic.  Self-quarantining and social distancing have not stopped Italians from having positive social connection. News reports from around the globe have featured spontaneous balcony serenades breaking out in the cities of Rome, Florence, Pavia, Turin and Sicily.
https://www.youtube.com/watch?v=8DfF5kOqOjo
Spaniards followed suit with their own musical variations in Sevilla, Spain.  On March 27, Spain watched as their death toll rose by 838 deaths in a 24-hour time span.  This placed Spain having the second-highest coronavirus death rate in the world, behind Italy.  The United States currently holds the highest death rate, with 332, 283 deaths.  Despite the tragedy that has hit their country, the Spaniards are keeping their heads up by singing and clapping to their apartment floor neighbors.
The examples of Italy and Spain serve as reminders there is always a way to be hopeful, our attitudes are not dictated by surrounding circumstances.
Although no musical variations are heard in the streets of the U.S, in New York City, nightly applause for health care service workers rings out at 7pm, their way of acknowledging those who are risking their lives to care for the sick.
As students and faculty of Rockhurst have transitioned to online courses, there is much room disappointment.  Freshman LC Coldiron, a Spanish and Secondary Education major, shared what has motivated her to stay so positive during this challenging time.
"I've been trying to keep my same schedule," she said. "I make myself get up at the same time as usual and actually get dressed. After classes I try to get outside, I either go for a run or a walk. I love being outside and can't stand being stuck in the same place, so it's been really good for me to get out and move."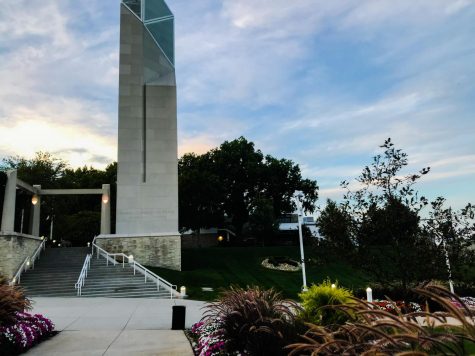 As far as finding ways to connect socially, Coldiron talks about getting creative and using humor even in the face of difficulty.  She recommends scheduling time for online social connection, "I have scheduled face time dates with a lot of my friends. It's nice to talk to them," she said.
"I've really been missing my people. My sorority is also having a weekly zoom hang out because sisterhood doesn't stop just because we aren't together. I think for me it's been about trying to find the fun in a really sucky situation," Coldiron said.
While Coldiron has avoided illness, the impact of the COVID-19 has still been personal.  The Omaha, Nebraskan native commented on the first person she knew to die of COVID-19 was a family friend.
"It hit me close to home. It's reminded me why it's so important that we stay home and remember those we love," she said.
Through it all, Coldiron has tried to stay grateful. One routine in particular has helped.  "I have a habit I've done every night since I can remember, I go throughout my day interaction by interaction and thank the universe for each person I talked to, even if it's not someone I always get along with.
"I think ending the day on a note of gratitude has been one of the biggest reasons I've been able to stay positive," she said.