Lucy's Laundry: Sick Styles
Let's face it– you either have the flu, have gotten the flu, or are in the process of getting the flu. While it sucks to be sick, there's no reason your closet can't be sick too. Here are some tips for looking as good as possible during a mid-class cough attack.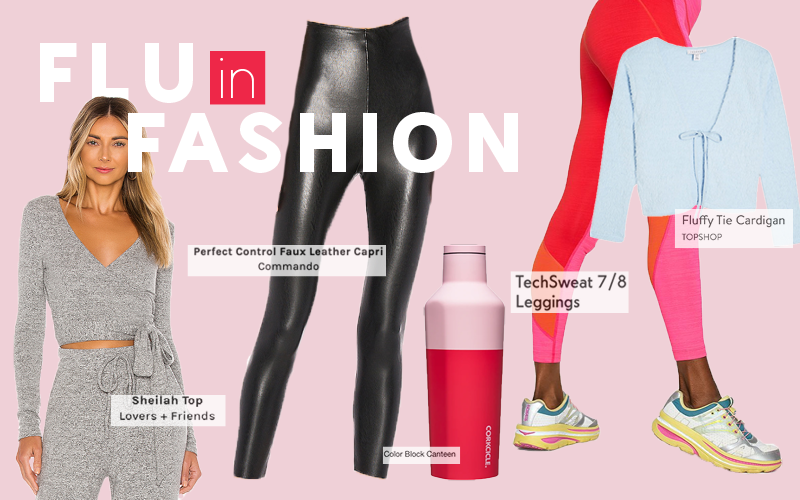 1. Match your sweats
The cardinal rule of being sick is keeping comfy. Lucky for us 21st century peeps, sweats are becoming more and more acceptable in the common closet. Elevate your look by matching your sweatshirt to your sweatpants, a.k.a the influenza tuxedo. The Sheilah set from Lovers+Friends is timeless and cute.
2. Wear bright colors
Sometimes, all you need to trick people into thinking you're feeling bright on the inside is by being bright on the outside. Opt for colors like light blue and dark pink, which are complementary to most skin tones. Pro-tip: avoid greens and yellows which can make you look even more pale, and can bring out that sickly-looking green undertone that comes with the flu. The workout brand Outdoor Voices has so many bright options to choose from (not that you'll have the energy to workout with Influenza B)
3. If you must dress up, cheat your look
Little known secret: leather leggings have all the comfy-ness that comes with Lululemon, but without the "i've been on the couch all week" vibes. By investing in a pair of faux-leather leggings, you can snap together a look fit for (almost) every boardroom. Pair your leather leggings with a turtleneck and top it off with a blazer for the perfect combination of chic and cozy. Named appropriately, these Commando leggings will keep you looking stylish while you feel bare.
4. Water is your BFF
This tip isn't new, but my twist on it is. Snag a water bottle that makes you want to drink water. Every time you glance down at your bag and see that shiny and new bottle, it reminds you to go get some more H2O. I currently have my eyes set on a color-blocked  Corkcicle Canteen. However, if you're broke, you can do what I normally do, and just slap on a new, exciting bumper sticker on your regular bottle. Whatever works for you.