Rockhurst Alumni & Families Welcomed for the Annual "Jam the Gym" Basketball Game
The Rockhurst community awoke Thursday to Rockalert texts and emails notifying them classes were canceled and offices closed. Happy to not have classes for the day, it also provided free time that night to cheer on the Hawks for the annual "Jam the Gym" basketball games.
Sorry, there are no polls available at the moment.
Jam the Gym, held in the Mason Halpin Fieldhouse, is a family-oriented event where Rockhurst alumni are welcomed back to campus to enjoy memories, fellowship and a couple basketball games. People of all ages, including Rockhurst students, are welcome to attend, with the goal to fill the gym bleachers to the brim.
In addition to the game, a raffle offered attendees a chance to win a 32-inch smart TV, Apple Airpods and gift cards. The university provided a photobooth and music and handed out free T-shirts, making for an atmosphere that stood apart from other athletic events.
The festivities tipped off at 5:30 p.m. with the Rockhurst women's basketball team, who took on the University of Illinois-Springfield. The Rockhurst women dominated the court, finishing the game 69-57, bringing their season record to 7-13.
The men's teams from Rockhurst and UIS took to the court at 7:30 p.m. Charged with keeping the momentum going and energetic cheers flowing, the announcers added fun commentary whenever a basketball player made a shot.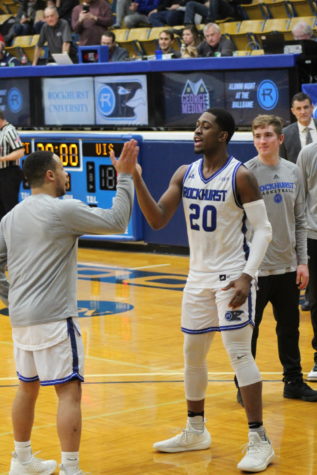 Both teams had speed as points racked up for each side. By halftime, Rockhurst had a 4-point lead with a score of 37-33.
Jam the Gym encouraged non-athlete participation by inviting two Rockhurst students to participate in a 3-point contest in the middle of the first half of the game. The students' objective was to shoot as many 3-pointers as they could within 30 seconds.
During halftime, there was also a knockout competition between students with a prize of $25 Visa gift cards. Rockhurst Dance Team performed, and the women's soccer team and women's volleyball team were recognized for their respective seasons. Both teams are 2018-19 Great Lakes Valley Conference champions.
As for the game back on the court, by the final buzzer, the Hawks had taken the win with a 10-point differential, 83-73. The crowd rejoiced and congratulated the Hawks on another victory, pushing their season record to 12-10 to end a jam-packed evening.