Feature: Frank Macias, A Voice to Know
Hang on for a minute...we're trying to find some more stories you might like.
"Friday Features" share the stories of members of the Rockhurst community and their endeavors beyond academics.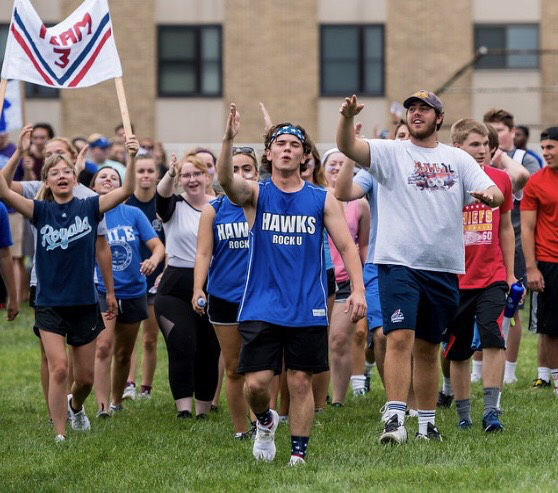 Meet Kansas City's newest aspiring radio show host, Frank Peter Macias II.
Inspired by connecting with people, Macias wants to reach others via any platform. He hopes to be in television, radio or social media – any platform that will allow him to connect with others.
Macias, now 19 years old, realized from a young age that he loves conversation. He went as far as changing his alarm in the morning to awaken him with his favorite radio station. Waking up to the sound of people conversating, laughing and bantering starts his day the right way.
"Frank is someone that is less interested in surface-level conversations but strives to dig deeper, allowing for a stronger relationship that continues to dwell," said Austin Bracker, '21, Macias' two-year roommate.
Although still in its early stages, Macias, a sophomore, has fueled his passion by beginning the process of creating a radio show for the Rockhurst community. He is hopeful that the show will be in production by next year. He has worked closely with Angie Carr Robinett, Director of Student Life, to develop a two-year plan to get the show up and running.
The opportunity to pursue his passion is one way that attending Rockhurst has been a blessing for Macias. He has 3 older sisters – Kate, Sophia and Carmen – who have always played an influential role in his life. Carmen, '20, who is on the Rockhurst cross country team, talked her brother into visiting the campus two years ago.
"Frank and I are so close in age and have done everything together growing up. It would have been strange if we hadn't gone to the same school or at least in the same city," Carmen said.
Being so close to his family has had a positive, ripple effect in Macias' life. His six-member family has shaped his favorite sports teams, his passion for music and his educational focus.
In addition to studying mass communication, Macias is minoring in psychology. He feels this academic balance will provide him with the advantages necessary to excel in the field he wishes to pursue post-graduation.
Outside of the classroom, Macias is a fan of the University of Kansas Jayhawks and Sporting KC. He and his family are avid soccer supporters, an interest that stems from his father's Hispanic heritage.
His parents met in choir, which helped form Macias' strong involvement in music. From his days at Goddard High School in Wichita, Macias realized music was something that ran in the family. He plays the guitar and writes his own songs – he currently has at least 15 original pieces on his phone.
Between music and sports, Macias prides himself on his ability to connect with others, bring energy to a room, conversate easily and always keep an open mind. With such an extroverted personality, he is sure to make a name for himself in communities beyond Rockhurst.
His pleasant personality is has set him on the proper foot to excel as an entertainment mogul – make sure to get his autograph now, before he becomes too famous.
Interested in joining the Sentinel staff? Reach out to our Editor, Kori Hines, at [email protected] to see how you can get involved.