Rockhurst's annual freshmen retreat continues to impact students
A student reflects on the meaning of "Frosh Getaway" for the Class of 2022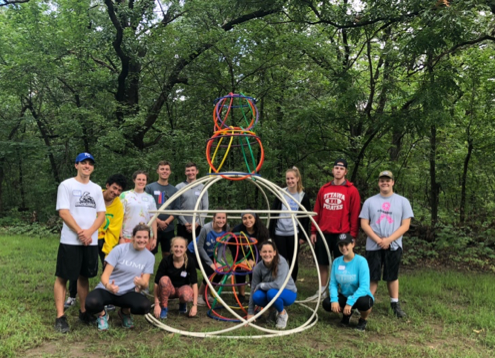 "Frosh Getaway" was a weekend full of fun, teamwork and reflection. The getaway took place Sept. 7-9 at Tall Oaks Conference Center in Linwood, Kansas.
The weekend offers spiritual, motivational, and creative activities that allow for growth of the students. It is designed for the freshman class to step away from academics to get in tune with themselves and with each other. This year's "frosh," the class of 2022, began the getaway with a bus ride through traffic. But it ended with enlightenment and many new friendships.
On the first day, the class met within small groups comprised of an upper-class leader and six freshmen. The groups listened to personal experiences of the leaders, and then took time to reflect. The reflections were led in the small groups, in which everyone was asked to participate by sharing about their life.
Sharing stories about provided space for the students to find common connections and begin the process of developing new friendships.
All of the talks had one thing in common: the fears and fun of freshman year. The night formally ended with "quiet time" but the students extended it with late-night conversations among themselves. These were the moments in which students began to gain trust in the new people around them. They were true moments of quality friendship that represented the value of the trip.
The second day was all about team-building and activities that helped students grow closer. From rope courses to team challenges to a scavenger hunt, many new bonds were built. It was an eye-opening experience.
The day quickly turned to night as it became time for reflection. Lead by the Campus Ministry team, everyone gathered quietly in the outdoor chapel for peace and reflection.
The reflection was symbolized by two elements: a rock and a rose petal. The rock stood for any fears we have, and the rose petal represented for what we are hopeful. The objective was to sink our fears and float our hopes.
In front of everyone, each person shared their fears and hopes. It was truly a moving moment – if you were present, you could feel it. Surely, that feeling will last with many of us forever.
Justine Schulz, '22, said she will always appreciate her Frosh Getaway experience. On the night of the group reflection, she was in awe. She believes the retreat helped her grow as a person. "For me it was one of the best weekends of my life," Schulz said.
"There are no words that can describe the spiritual connection I made that weekend, because it was like nothing I've ever experienced before." I concur.
During the uplifting reflection and the bonfire that followed, I was grateful to be around my peers, immersed in genuine friendship.
The next morning, the experience was capped off with emotional group affirmations. As a group, we expressed to one another how important each person, describing the value of each person's friendship and fellowship. The experience brought several students to tears. It is a moment I will forever cherish.
Similar to orientation, this retreat offers good vibes and allows students to branch out in a new, unfamiliar environment. I think orientation and Frosh Getaway are two of the best events a new Rockhurst student could take part in.
Frosh Getaway is an opportunity to grow in faith and community. It is a positive experience that I will always associate with my freshman year at Rockhurst.
Interested in joining the Sentinel staff? Reach out to our Editor-in-Chief, Kori Hines, at [email protected] to see how you can get involved.