Hawks soar into Elite Eight matchup on Thursday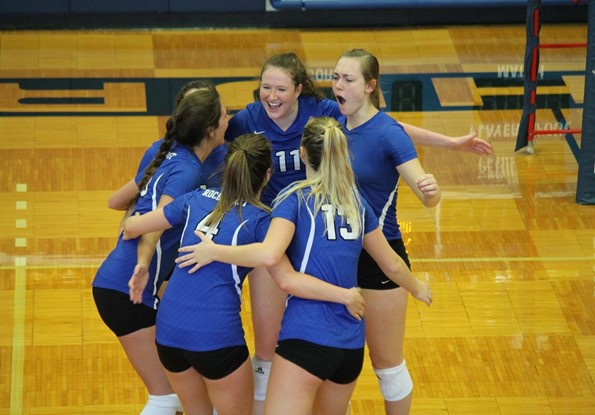 For the second time in three years, the Rockhurst Volleyball team clinched a berth in the Elite Eight of the NCAA Division II National Volleyball Championships.
The Hawks (31-7) were crowned Midwest Regional Champions after defeating No. 1 seed Lewis on their home court in Romeoville, Illinois on Saturday.
After dropping the first set 25-22, the women regrouped to win the next three. This included a thrilling fourth set comeback: losing 20-13 at one point, the team rallied back to win 29-27 and clinch the victory.
Head coach Tracy Rietzke was proud of his team's resilient performance.
"We chipped away in the fourth set," Rietzke told rockhursthawks.com. "We put pressure on them. That is a huge comeback on a great team."
Lewis beat Rockhurst in each of their first two meetings this season. Junior defensive specialist Kalie Arnold elaborated on the feeling of revenge against one of the nation's best teams.
"Going in as a three seed, I don't think anyone outside of our coaches and our squad thought we could pull off an upset against Lewis on their home court," she said. "However, this group has battled through adversity all season long with different injuries and sickness," Arnold said, attributing that toughness to strong senior leadership.
The Hawks will play Flagler at 5 p.m. on Thursday in Pensacola, Florida, the site of the Division II volleyball championships. The Saints (27-3), from St. Augustine, Florida, became the Southeast Regional champions after defeating Wingate University in straight sets.
Rockhurst and Flagler hold the No. 5 and No. 4 seeds, respectively, after each remaining team is reseeded one through eight.
Volleyball fans across campus have been unable to contain their excitement ahead of Thursday's matchup.
Anthony Gambino, '19, gave his full support to the team as they traveled to Florida. "The women came out and conquered," he said. "I have talked to some of the players and this was a goal they've had all season. I couldn't be more proud to say I'm a fan of the Rockhurst volleyball team. Hawks fly together, baby."
As for their upcoming game, both players and fans remain optimistic.
"We have high expectations heading to Florida, as we are playing our best volleyball right now," Arnold said.
Gambino said he expects the Hawks to face "a tough matchup" against Flagler, and particularly with Sara Davis, the Saints' middle hitter. Davis is a senior who was selected as the Peach Belt Conference's player of the year, a member of the Southeast All-Region team and a 2016 third team All-American.
"She's been having another great season and will be a tough opponent. But, there's no doubt in my mind that our girls are up to the challenge," Gambino said. "If our blocking can get hot she'll be out of her comfort zone faster than I can say 'Jackrabbit'."
The game can be streamed either on the Rockhurst Athletics page or on the GLVC Sports Network.