Rockhurst athletics earns prestigious GLVC award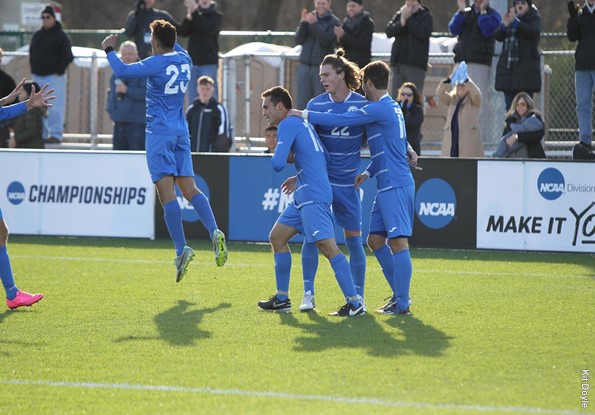 Hang on for a minute...we're trying to find some more stories you might like.
Each year, the Great Lakes Valley Conference awards the most successful athletic program with the conference's Commissioner's Cup. The award accounts for success in the conference's seven major sports: men's and women's soccer, volleyball, men's and women's basketball, softball and baseball.
The Rockhurst Hawks won the 2016-17 Commissioner's Cup, the conference announced Tuesday. Rockhurst finished with 82 points, followed closely by Southern Indiana (79), Bellarmine (78) and Truman State (78). The award was first given out in 2002-03, but this is the first Commissioner's Cup for the Rockhurst athletic program.
"Winning the GLVC Commissioner's Cup is a tremendous honor for Rockhurst, and is a direct reflection of the dedication and hard work by our coaches and student-athletes," said Director of Athletics Gary Burns on Tuesday.
Men's soccer once again had a deep run in the NCAA Tournament, losing in the national semifinals in Kansas City. The women's soccer team qualified for the national tournament, too, but lost in the first round to Missouri-St. Louis. Men's basketball improved again in its second season under head coach Drew Diener and finished the season with an overall record of 14-13. Women's basketball finished 18-10 and won a game in the GLVC Tournament.
Volleyball had a strong season, finishing 27-7 and earned a NCAA Midwest Regional birth. Softball posted a 31-22 (19-7, GLVC) record but was eliminated in the conference tournament. Baseball finished their season 23-25, but had a six-game win streak to start the season. Rockhurst nearly won the award last year but lost it to Indianapolis by six points.
"We came close to achieving our goal of winning the cup last year, which makes finishing first in the Cup standings this year even more special," Burns said.